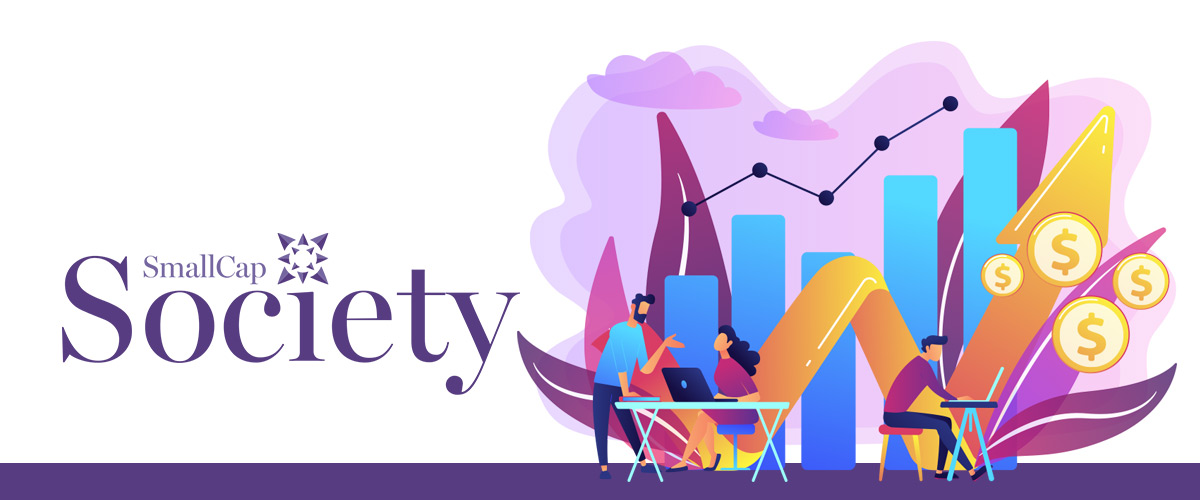 Society Picks of The Week

Playgon Games Inc.
(TSX.V: DEAL) (OTCQB: PLGNF)
Playgon Games Inc. (TSX.V: DEAL) (OTCQB: PLGNF) i s a SaaS technology company focused on developing and licensing digital content for the growing global iGaming market. The company provides a multi-tenant gateway that allows online operators the ability to offer their customers innovative iGaming software solutions. Its current software platform includes Live Dealer Casino, E-Table Games and Daily Fantasy Sports. Seamless integration at the operator level allows customer access without requiring the sharing of any sensitive customer data. Playgon games run on any browser and any device as fast and secure as a native app, without requiring any app store download. All that's needed is a stable internet connection. The gaming experience is identical across all mobile devices. As a true business-to-business digital content provider, the company's products are scalable turnkey solutions for online casinos, sportsbook operators, location-based operators, media groups, and big database companies.

Playgon's proprietary technology provides digital games for online gambling sites and mobile device apps, with the company licensing its mobile live-dealer technology to online gaming operators worldwide. Playgon combines high definition live streaming dealers with state-of-the-art augmented reality betting to provide the most authentic casino experience, live from Las Vegas. Playgon's mobile platform features popular table games, all optimized for one-handed play on mobile devices.

The COVID-19 pandemic has accelerated an already existing shift away from location-based casinos to online gambling. At the same time, the proliferation of mobile devices has provided players with new access to betting. A younger, tech-savvy consumer demographic is driving adoption of digital gaming globally. To meet this demand, Playgon has launched a studio with 10 gaming tables from which its live dealer streaming video originates. The company's platform is live with multiple online casino operators through four aggregator clients in South Africa and Europe, and commitments are coming in from more.

Playgon plans to expand the studio to 25 tables in the near term and is working to establish a U.S. strategy. The company will continue to expand licensing of its live dealer games to iGaming operators worldwide under a SaaS license agreement. As a B2B software supplier, Playgon avoids player acquisition costs.
Investment Considerations
Playgon's management team has three decades of iGaming experience and successful prior exits.
The company's business is global, with a mobile-first strategy.
Playgon's proprietary software assets are IP-protected.
The company's portrait-mode UX is uniquely designed for one-handed play on mobile phones.
Playgon's position is protected by high barriers to entry in a rapid-growth industry.
Online casinos and sports betting sites/apps are increasingly adding market share to traditional location-based casinos.
The online gambling market is forecast to grow at a CAGR of 12.3%
The global online gambling market is slated to reach a value of $127.3 billion by 2027, according to Grand View Research, with much of the growth expected from the U.S. and Asia.
The U.S. online gambling market is on pace to reach a value of $19.3 billion by 2025, according to JP Morgan, as the market continues to regulate at a rapid pace.
- Recent Coverage -
InvestorNewsBreaks - Playgon Games Inc. (TSX.V: DEAL) (OTCQB: PLGNF) (FSE: 7CR) Inks Licensing, Distribution Deal with Global iGaming Supplier
Playgon Games (TSX.V: DEAL) (OTCQB: PLGNF) (FSE: 7CR), a propriety SaaS technology company delivering mobile-first live-dealer technology to online gaming operators globally, has signed a software license and distribution agreement with Markor Technology, a global iGaming supplier. Markor Technology has built a reputation for offering products driven by data science and machine-learning automation. The company's multivertical portfolio includes state-of-the-art iGaming platform ("PAM"), white-label solutions, game aggregation and managed services. According to the three-year agreement, Markor Technology will add Playgon's exclusive, mobile-first Vegas Lounge live dealer and e-table offerings to its content library, where it will be available to a global client base; license fees will be based on commercial revenue-sharing rates. Both companies noted that integration work had been completed with client testing and onboarding starting immediately. "We are delighted to team up with Markor Technology," said Playgon Games president and CEO Darcy Krogh in the press release. "I first met up with the Markor team in London at this year's ICE conference in April and was impressed with their strategy and vision. They are an experienced team with significant client reach and have already secured a few key customer accounts through their network and look forward to many more in the future."
---
---

Cannabis Strategic Ventures Inc.
(OTC: NUGS)
Cannabis Strategic Ventures Inc. (OTC: NUGS) is an emerging leader in the U.S. cannabis marketplace as a publicly traded cannabis cultivator. The company is based in Los Angeles, with a 6-acre cannabis farm in Northern California called NUGS Farm North. The company's vision is to acquire and scale assets in the legal cannabis market while achieving efficiencies through economies of scale and vertical integration.
Cannabis Strategic Ventures recently expanded its portfolio by completing the transfer process for cultivation, retail, distribution and manufacturing licenses issued by the City of Los Angeles and the State of California, and it is now working toward taking operational control of each license. The company also recently announced the upcoming grand opening of its cannabis dispensary, MDRN Tree. Following that launch, Cannabis Strategic Ventures intends to deploy another of its new licenses to establish an indoor cultivation facility with capacity to produce two to three pounds of premium exotic cannabis flower per light per harvest. The facility will have up to 1,200 grow lights and is anticipated to yield 5.75 harvests per year, bringing it to a total production capacity of over 15,000 pounds of cannabis flower annually.
Brand Portfolio
The company owns multiple brands under the Cannabis Strategic Ventures umbrella. The firm's NUGS brand provides operational and financial strategic partnerships and a range of essential services to emerging and existing cannabis consumer brands.
The NUGS Farm North brand operates as a six-and-a-half-acre cannabis cultivation property located in northern California. The company believes that the key to success in its business is consistent quality and reliable supply to fit growing consumer demand. Cannabis Strategic Ventures addressed these consumer needs by building NUGS Farm North. At NUGS Farm North, the company's process is customized, and its product is consistent. Located in the heart of an agricultural mecca for globally distributed produce, NUGS Farm North finds power in its product, not in its size. Decades of agricultural experience and a dedication to consistency ensure quality cannabis.
MDRN Tree is Cannabis Strategic Ventures' customer-facing dispensary brand. MDRN Tree will open its first Los Angeles location sometime in the fall of 2021. MDRN Tree will be the company's factory retail store – a direct interface with the end-market community – where Cannabis Strategic Ventures plans on showcasing the cannabis flower produced at its NUGS Farm North cultivation site. This farm-to-sale model offers the potential to drive simultaneous gains in quality control and profitability.

Investment Considerations
Cannabis Strategic Ventures' 2020 revenue jumped 517% year-over-year to $14.6 million.
2020 revenues from cannabis sales were $14.1 million, up 975% compared to fiscal 2019.
The company's gross profit spiked 483% year-over-year, reaching $2.78 million in 2020, while gross margins held steady at about 20 percent.
Cannabis Strategic Ventures will launch its first Los Angeles dispensary in Q4 2021.
The company will open an indoor cultivation facility with capacity to produce up to 15,000 pounds of premium cannabis flower annually.
- Recent Coverage -
420 with CNW - Revised Lawsuit Wants DOJ to Explain Gun Ban for Medical Marijuana Users
Dozens of states may now allow medical and recreational cannabis, but continued federal prohibition has been a major thorn in the state-legal cannabis industry's side. Marijuana's federal classification as a Schedule I drug has made it nigh impossible for cannabis businesses to access financial services and significantly hindered investment in the industry.
Furthermore, federal prohibition has led to plenty of cannabis consumers being penalized for engaging in acts, such as purchasing and consuming cannabis, that are legal in their state. A recent lawsuit seeks to understand the rationale behind one such penalty: preventing medical marijuana users from purchasing guns.
After a recent ruling from the Supreme Court overturned state gun restrictions, a top Florida official filed a lawsuit asking the U.S. Department of Justice to explain why medical marijuana users are barred from buying guns. Citing the Supreme Court ruling, attorneys representing Florida agriculture commissioner Nikki Fried and other plaintiffs recently filed the revised complaint in a federal district court.

It is individual efforts such as the lawsuits filed by Nikki Fried that could help chip away at the vestiges of marijuana prohibition and eventually result in the kind of regulatory environment, which will allow companies such Cannabis Strategic Ventures Inc. (OTC: NUGS) to establish a footprint across the country if they so wish and thrive.
Interact with SmallCapSociety Members
Network Partner Spotlights

- And -

About SmallCapSociety
Our focus is on micro- and small-cap companies spanning a range of industries and stages of development. The stocks that catch our attention feature the products, services, management teams and business plans required to thrive in today's markets. For the knowledgeable investor, the small-cap space represents huge potential, but keeping abreast of the latest happenings in specific industry sectors and niches is essential to optimizing long-term returns. We're not interested in selling snake oil or touting the so-called "hottest" stocks. We're all about giving you the tools and information needed to uncover ground-floor plays that are ripe for big-time moves.
Newsletter archives and disclaimers available at: www.smallcapsociety.com