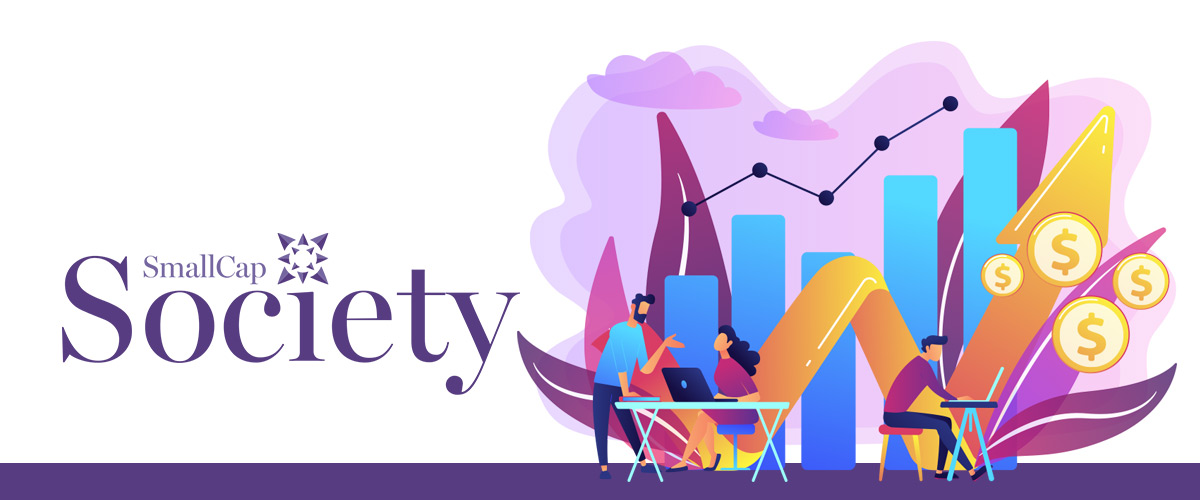 Society Picks of The Week

Sugarmade, Inc.
(OTC: SGMD)
Sugarmade, Inc. (OTC: SGMD) is a cardiac technology company that has developed the first and only 3D-vector 12-lead electrocardiogram (ECG) platform for heart attack detection anytime, anywhere. The company's proprietary ECG telehealth technology aims to redefine the way high risk cardiovascular patients are diagnosed in ambulatory and acute care settings. HeartBeam's initial focus is on providing diagnostic data to help physicians with care management of patients with cardiovascular disease.
is a product and brand marketing company investing in operations and technologies with disruptive potential. The company is focused on collaborating with real people in real-time to identify the emerging desires and behaviors poised to unlock new opportunities and pathways for growth. Sugarmade seeks to redefine the marketplace by nurturing an innovative and compelling relationship between brand, botany and business – resulting in both undeniable consumer value and an intriguing cross-pollination of revenue sources.
The company's core strategic plan is centered on expanding its end-market access as a central player in the growing California cannabis delivery marketplace while developing its in-house cannabis production capacity to verticalize operations in the space. Through a combination of organic growth and strategic acquisitions, Sugarmade intends to develop a full farm-to-door vertically integrated cannabis business.
Brand Portfolio
Sugarmade has investments in a number of subsidiaries with active operations in the California cannabis sector. These include:
NUG Avenue – Sugarmade owns a 70% stake in NUG Avenue, a cannabis delivery service based in Southern California providing hand-selected top-shelf products from Stiiizy, Kanha, PlugPlay and more.
BudCars – Sugarmade is an investor in cannabis delivery service of BudCars' first operating location in Sacramento, California. BudCars is an online-shopping experience designed to provide new customers with an easy way to discover and order cannabis products within minutes.
Acquisition of Lemon Glow Company
On May 17, 2021, Sugarmade took a major step toward closing the loop on what its management team believes to be one of the most promising vertically integrated cannabis models in the thriving California market when it announced the signing of a definitive agreement for its acquisition of Lemon Glow Company Inc.
The Lemon Glow acquisition includes 640 acres of property, 32 of which have already been designated for outdoor cannabis cultivation. Per the company's news release, the annual potential cultivation yield at the property is estimated to be approximately 4,000 pounds of dry trimmed cannabis flower per acre per year, which represents approximately 128,000 pounds, or 64 tons, of dry trimmed cannabis flower per year in total.
Notably, Sugarmade also benefits from the acquisition in terms of team capital, as Lemon Glow executive team members will stay on and become the core management team at the cannabis cultivation site, granting the operation over 30 years of cannabis cultivation experience.
"The Lemon Glow team are tremendous additions to the Sugarmade team," Jimmy Chan, CEO of Sugarmade, commented in announcing the definitive agreement. "They have vast experience and established skills, as well as intricate knowledge of the property and its local grow context. That's an enormous added value proposition in this deal. We look forward to bringing them on board, ramping up operations at the property, and taking key steps toward delivering on the promise of Sugarmade's farm-to-door vision."
Investment Considerations
Sugarmade Inc. aims to expand its end-market access as a central player in the growing California cannabis delivery marketplace while developing its in-house cannabis production capacity to verticalize operations in the space.
The company has made key cannabis industry investments in NUG Avenue and BudCars.
On May 17, 2021, Sugarmade announced its entry into a definitive agreement for its acquisition of Lemon Glow Company Inc.
The Lemon Glow acquisition includes 640 acres of property, 32 of which have already been designated for outdoor cannabis cultivation.
California's legal market hit $4.4 billion in sales in 2020, up from $2.8 billion in 2019.
- Recent Coverage -
InvestorNewsBreaks - Sugarmade Inc. (SGMD) Subsidiary Inks MSA for Manufacturing, Distribution Expansion
Sugarmade (OTC: SGMD) subsidiary SugarRush has signed a management services agreement ("MSA") with Canndis Inc., a California cannabis micro-license holder. The MSA outlines an expansion for the company's manufacturing and distribution operations based on Canndis' license, which includes delivery, manufacturing, distribution and cultivation capabilities. The MSA calls for Sugarmade to take over cannabis product manufacturing, distribution, delivery licensing and facility management ahead of Canndis's first harvest at its Jerusalem Grade Farm; the farm is licensed for 43,560 square feet of outdoor canopy area and is growing at full capacity this season. According to the announcement, the MSA provides for the establishment of a new strategically located manufacturing and distribution hub. Sugarmade is an emerging leader in the licensed cannabis sector. "This deal will provide us with a new income stream as we apply our expertise and experience to mobilize Canndis' assets and market positioning," said Sugarmade CEO Jimmy Chan in the press release. "But it also has substantial strategic value because it lays a foundation for a significantly expanded manufacturing and distribution infrastructure under our control when we harvest our first crop in two months."
---
---

Friendable Inc.
(FDBL)
Friendable Inc. (FDBL) is a mobile technology and marketing company focused on developing and identifying products, services and brand opportunities with mass market potential and scalability.
Friendable published its first mobile application in the Apple App Stores and Google Play stores in 2014, in the social networking and dating category. The Friendable app achieved over 1.5 million downloads, Top 10 worldwide rankings, and has led to celebrity-related marketing opportunities and various relationships with well-known music artists, as well as up-and-coming independent artists.
Friendable has since removed the social dating app from the app stores and has pivoted its business focus to Fan Pass, the livestream artist platform. Launched July 24, 2020, the Fan Pass livestream platform has proven to be invaluable for artists and fans alike as performances shifted from the stage to the screen.
Friendable was founded by brothers Robert A. Rositano Jr. and Dean Rositano, who have more than 27 years of experience working together on technology-related ventures.
The Fan Pass Mobile & Desktop App
Friendable Inc. launched its Fan Pass platform as a solution for artists and their fans as the COVID-19 pandemic and the associated shutdown have continued to severely hamstring the entertainment industry as a whole. Through Fan Pass, the company aims to reach artists at all levels looking to alter their touring schedules to include 'Virtual Touring', new revenue sources and innovative fan engagement opportunities that are expected to become permanent fixtures of artists' touring routines moving forward.
Fan Pass creates an ecosystem that embraces fans of all kinds, feeding diehard followers and developing lasting connections with more casual supporters. Through the app, qualified artists are provided with a custom designed, exclusive 'Fan Pass Channel' where they can invite fans and social followers from anywhere around the world to join in chats and live events – allowing fans to experience all there is to see of an artist in one place. Artists earn revenue from monthly fan subscribers, merchandise sales, tickets sold for virtual streaming events and generally from all content views or impressions on their channels. All content views and sales of every kind are reported to each artist through their dashboards, including real-time payout and earnings information.
Fan Pass' exclusive 'All Access VIP' option provides fans with access to content, such as:
Live performances or online concerts
Backstage meetups before, during or after events
Livestreams of studio sessions
Behind-the-scenes footage of music video and photo shoots
Special interviews and one-on-one videos
Streams highlighting the artists' daily lives
The Fan Pass platform is extremely intuitive, bringing each artist through a streamlined onboarding process, including building out artist 'Channels', scheduling LIVE events and designing special edition merchandise to be offered solely through exclusive Fan Pass merchandise stores.
"With the global pandemic disrupting the entertainment industry in such a profound way, artists have had to look to digital distribution and live virtual performances in order to maintain any earning opportunities. Fan Pass and our team are determined to provide solutions and support to all artists, their fans and the industry in general. We are excited about the opportunity we have to shape the future of virtual entertainment, revenue generation and artist/fan engagement," Robert A. Rositano Jr., CEO of Friendable Inc., stated in a news release.
Investment Considerations
Friendable Inc.'s Fan Pass app is designed to break down the barrier between artists and fans.
The Fan Pass app offers subscribers the opportunity to connect with their favorite artists and access one-of-a-kind experiences, live performances and merchandise created especially for them.
With an affordable pricing structure that facilitates revenue growth, Fan Pass provides investors a unique opportunity to obtain a stake in a new organization catering to a growing population of omni-users who crave constant connection with celebrities and influencers.
The company has secured a partnership with Brightcove targeting OTT platform expansion, including leaders such as iOS, Android, Apple TV, Android TV, Roku and WWW.
Roughly 100 million internet users watch online videos every day, creating a highly lucrative market opportunity for Friendable Inc.
The video streaming industry in the United States is expected to reach $7.08 billion in 2021.
- Recent Coverage -
InvestorNewsBreaks - Friendable Inc. (FDBL) Removing Guesswork in Music Production, Distribution, Marketing for Indie Artists
Friendable (OTC: FDBL), a mobile technology and marketing company, is changing the dynamic for indie artists. Unlike those with mainstream record labels, indie artists do not have the same support from the industry when producing, distributing and marketing music and must rely on third parties, which can result in a search for three or more separate entities to make these endeavors possible. "One company is changing this dynamic for indie artists, making it possible for them to produce, distribute and market their music on one platform – Fan Pass Live. The platform from Friendable, accompanied by the company's Artist Republik and FeaturedX offering, provides a 360-degree solution for indie artists who want to be in full control of their music production, distribution and marketing efforts," a recent article reads. "Through the Fan Pass Live platform, Friendable is making it possible for indie artists to be heard without the fees and contracts required by traditional record labels, with the support and scalability of experts in the industry… With the advantage of offering indie artists various services on one localized platform, Friendable and the Fan Pass Live platform remove the guesswork artists go through when finding ways to get their music heard."
Interact with SmallCapSociety Members
Network Partner Spotlights

- And -

About SmallCapSociety
Our focus is on micro- and small-cap companies spanning a range of industries and stages of development. The stocks that catch our attention feature the products, services, management teams and business plans required to thrive in today's markets. For the knowledgeable investor, the small-cap space represents huge potential, but keeping abreast of the latest happenings in specific industry sectors and niches is essential to optimizing long-term returns. We're not interested in selling snake oil or touting the so-called "hottest" stocks. We're all about giving you the tools and information needed to uncover ground-floor plays that are ripe for big-time moves.
Newsletter archives and disclaimers available at: www.smallcapsociety.com