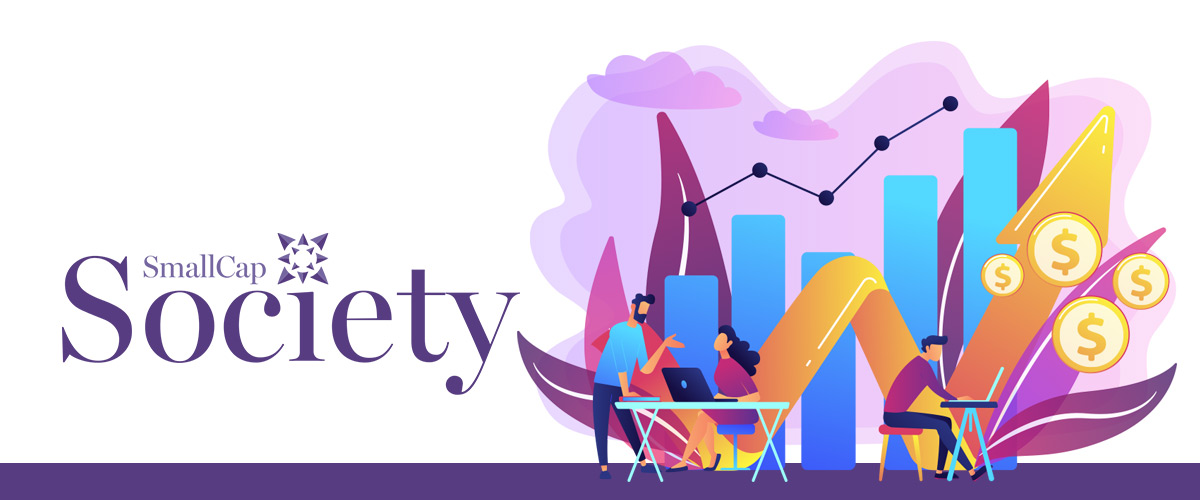 Society Picks of The Week

HeartBeam Inc.
(NASDAQ: BEAT)
HeartBeam Inc. (NASDAQ: BEAT) is a cardiac technology company that has developed the first and only 3D-vector 12-lead electrocardiogram (ECG) platform for heart attack detection anytime, anywhere. The company's proprietary ECG telehealth technology aims to redefine the way high risk cardiovascular patients are diagnosed in ambulatory and acute care settings. HeartBeam's initial focus is on providing diagnostic data to help physicians with care management of patients with cardiovascular disease.

In August 2022, HeartBeam announced that it submitted its HeartBeam AIMI™ software for approval from the U.S. Food and Drug Administration (FDA). HeartBeam AIMI is a platform technology to improve the speed and accuracy of heart attack detection in acute care settings. The company expects FDA approval by the end of 2022, and a full commercial roll-out of HeartBeam AIMI is targeted for Q1 2023.

HeartBeam sees submission of its first product based on its platform technology as an important milestone toward commercialization, which underscores the company's continued progress toward making the HeartBeam AIMI platform widely available to help emergency department physicians quickly and accurately identify a heart attack.

While the FDA conducts its regulatory review, HeartBeam will focus on executing key components of its commercialization plan and subscription revenue model. It will also continue to engage in discussions with strategic institutions, including academic centers, regional healthcare systems and regional community hospital systems that can utilize HeartBeam products.

The company is based in Santa Clara, California.

Products

HeartBeam's development portfolio includes two products:
HeartBeam AIMI is software that provides a 3D comparison of baseline and symptomatic 12-lead ECG to more accurately identify a heart attack in acute care settings and, as noted above, has been submitted for FDA approval; and
HeartBeam AIMIGo™, the first and only credit card-sized 12-lead output ECG device coupled with a smartphone app and cloud-based diagnostic software system for remote heart attack detection.
HeartBeam is developing AIMIGo, a medical-grade detection and monitoring technology for use in remote heart attack detection, thereby allowing physicians to diagnose a patient's heart attack as it occurs, even if the patient is not at a medical facility. The company's system, once approved by the FDA, can be used by patients at home or almost anywhere and anytime to help their physicians assess whether chest pain is the result of a heart attack or another cause. While approximately 82% of chest pain ED visits are unnecessary, patients delay approximately 3 to 4 hours after symptoms begin, increasing mortality rates by 40%. The company's goal is to shorten the time to treatment outside of the medical facility to improve patients' well-being.

HeartBeam's AIMIGo is a powerful, portable and easy-to-use prescription-based product. It comprises a smartphone app, a credit card-sized ECG device placed on a patient's chest, the HeartBeam cloud platform, and a digital portal for the physician to view ECG results and direct patient action. For the first time outside of a medical setting, HeartBeam AIMIGo enables patients and their clinicians to determine if symptoms are due to a heart attack, quickly and easily, so care can be expedited, if needed.

Pending FDA clearance, AIMIGo is initially intended to be available by prescription, and is reimbursable under existing remote patient monitoring codes (RPM codes). This provides a new revenue stream to physicians who before did not have a way to monitor these high-risk patients. The RPM codes provide a monthly reoccurring revenue stream to the company, as well. On average, at current reimbursement rates, the practice will receive $1,300+ per year per patient they monitor, and the company will receive $600 per year per patient from this RPM reimbursement.
Investment Considerations
HeartBeam is a cardiac technology company that has developed the first and only 3D-vector ECG platform for heart attack detection anytime, anywhere.
In September 2022, the company announced it was granted a patent for its 12-lead ECG Patch Monitor, opening a pathway to ischemia and arrhythmia detection innovation in ECG Patch products.
In August 2022, the company announced it was seeking FDA approval for its HeartBeam AIMI platform technology used to detect and diagnose heart attacks.
On November 15, 2021, HeartBeam had its IPO on the Nasdaq under ticker symbol 'BEAT'.
The company's management team has significant experience in software and medical device product development, with over $1 billion in successful exits over the past 18 months.
HeartBeam was selected as a winner at the annual Cardiovascular Innovations (CVI) 2022 Innovation Summit, which recognizes state-of-the-art cardiac technologies.
- Recent Coverage -
InvestorNewsBreaks - HeartBeam Inc. (NASDAQ: BEAT) Expands Growing Portfolio with Valuable New Patent

November 16, 2022 9:15 AM
Patent Opens Pathway to Disruptive Ischemia and Arrhythmia Detection Product in Multi-billion Dollar Wearables Device Market
HeartBeam (NASDAQ: BEAT), a cardiac technology company, has developed the first and only 3D-vector electrocardiogram ("VECG") platform for timely heart attack detection. The company today announced that the United States Patent and Trademark Office has allowed its patent for a 12-lead electrocardiogram ("ECG") smartwatch-based monitor intended for detection of heart attacks and complex cardiac arrhythmias. The innovation expands HeartBeam's growing intellectual property portfolio enabling 12-lead ECG diagnostics outside of a medical setting. "The breakthrough inventions protected by this patent enable our proprietary 3D ECG technology to be built into a smartwatch, eliminating the need for a dedicated ECG device while offering a 12-lead ECG capability enabling heart attack and complex arrhythmia detection," said HeartBeam CEO and Founder Branislav Vajdic, PhD. "This patent may prove to be one of the most valuable patents in our rich and growing patent portfolio and, together with our 12-lead ECG patch patent, I believe, will have a disruptive effect on these existing multibillion-dollar fast-growing markets."
---
---
Energy Fuels Inc.
(NYSE American: UUUU)
(TSX: EFR)
Energy Fuels Inc. (TSX: EFR) (NYSE American: UUUU), based in Lakewood, Colorado, is the country's largest producer of uranium and the leading conventional producer of vanadium, both designated by the U.S. government as critical minerals. Energy Fuels also began production of rare earths in 2021 at a stage more advanced than any other U.S. company.

As the leading U.S. diversified uranium miner, Energy Fuels' uranium production portfolio stands apart in the world. Energy Fuels has more uranium production facilities, more production capacity, and more in-ground resources than any other company in the United States. In fact, the company's assets have produced over one-third of all U.S. uranium over the past 15 years and is uniquely positioned to increase production to meet new demand.

Energy Fuels utilizes both conventional and in-situ recovery ("ISR") technology to produce uranium from three strategic facilities:
White Mesa Mill in Utah (conventional) has a licensed capacity of over 8 million pounds of U3O8 per year. The highly strategic White Mesa Mill is the only conventional uranium mill in the country and is proximate to some of the largest and highest-grade uranium mines and projects in the U.S., including the Company's Canyon mine, La Sal Complex, Henry Mountains Complex and Roca Honda Project. White Mesa Mill provides Energy Fuels with significant production scalability as uranium demand increases. The White Mesa Mill also has other diverse businesses, including vanadium, rare earth elements (REE's), alternate feed materials recycling and land cleanup, all described below.
Nichols Ranch Plant (ISR) is located in the productive Powder River Basin district of Wyoming and has a total licensed capacity of 2 million pounds of U3O8 per year. Nichols Ranch has produced 1.2 million pounds of U3O8 since commissioning in 2014, and it has significant future expansion potential from 34 fully licensed wellfields containing significant in-ground uranium resources.
Alta Mesa Plant (ISR) is located on over 200,000 acres of private land in Texas. The fully licensed and constructed ISR project has a total operating capacity of 1.5 million pounds of uranium per year and produced nearly 5 million pounds of U3O8 between 2005 and 2013. This low-cost production facility is currently on standby, maintained in a state of readiness to respond to expected increases in demand.
In addition to being the largest uranium miner in the U.S., Energy Fuels' overall portfolio also includes a pipeline of high-quality, large-scale exploration and development projects that are permitted or are in advanced stages of permitting, as well as an industry-leading U.S. NI 43-101 Mineral Resource portfolio.

FACTOID: Energy Fuels has led industry efforts over the past two-plus years to get the U.S. government to recognize the importance of domestically produced uranium, including the 2018 – 2019 Uranium Section 232, the ongoing Nuclear Fuel Working Group and the recently announced creation of the U.S. strategic uranium reserve. The U.S. is by far the largest consumer of uranium in the world, yet we import almost all of our requirements; Energy Fuels aims to change that.

Nuclear Market Potential

Multiple studies in top scientific journals have shown that nuclear power is cleanest and most economical way to produce reliable electricity as worldwide demand continues to soar. Nuclear power is presently the only available and affordable low-carbon power source that can meet both current and future baseload electricity demands while simultaneously reducing air pollution and mitigating climate change. U.S. nuclear power plants currently generate nearly 20% of the nation's electricity overall and 55% of its carbon‐free electricity and even a modest increase in electricity demand would require significant new nuclear capacity by 2025. According to the World Nuclear Association (WNA), there are currently 443 operable reactors, with another 57 units under construction and 426 in various stages of planning; in addition, the WNA has identified a potentially massive supply/demand gap through 2040 of 1 billion pounds. These factors among others are expected to significantly drive increased demand for uranium.

Reasons Nuclear is Gaining Traction
Nuclear reactors emit no greenhouse gases during operation. Over their full lifetimes, they result in comparable emissions to renewable forms of energy such as wind and solar.
Unlike any other form of energy, the waste from nuclear energy is contained and managed securely. Used fuel is currently being safely stored for ultimate disposal or future reprocessing, and 96% of this waste can potentially be recycled.
Greater demand for clean electricity to power everything from homes to automobiles, reducing dependence on fossil fuels.
No. 1 U.S. Producer of Vanadium in 2019

Energy Fuels also produces vanadium as a byproduct of uranium production. Vanadium is designated a critical mineral, essential to the economic and national security of the United States. Energy Fuels was the largest producer of vanadium in the U.S. in 2019, and has significant high-grade, in-ground vanadium resources, as well as a separate high-purity vanadium production circuit at their White Mesa Mill, which is also the only conventional vanadium mill in the country. Crucial for use in the steel, aerospace, and chemical industries, vanadium plays a critical role in the production of high-strength and light-weight metallic alloys and demand is expected to increase across the globe. Energy Fuels has several fully permitted and developed standby mines containing large quantities of high-grade vanadium, along with uranium, including:
La Sal Complex (Utah)
Whirlwind Mine (Colorado/Utah)
Vanadium has also gained increased attention as a catalyst in next-generation high-capacity, "community-scale" batteries used for energy storage generated from renewable sources. Demand is only expected to grow as this market expands. With recent upgrades in its vanadium production operations, in 2019 Energy Fuels produced 1.8 million pounds of the highest purity (99.7%) vanadium in the mill's history and can rapidly adjust production to meet volatile market conditions. Energy Fuels is one of the very few known avenues that provides investors access the vanadium market.

Rare Earth Element (REE) Production, Alternate Feed Material Recycling, and Land Cleanup

The White Mesa Mill also provides the company with diverse cashflow generating opportunities. Security of supply for Rare Earth Elements (REEs) supporting U.S. military and defense requirements is a major issue today. In 2021, the White Mesa Mill began processing a mineral called monazite, which is widely recognized as one of the most valuable REE-bearing minerals in the world due to excellent distributions of the magnetic REEs needed for electric vehicles (EVs), wind generation and a host of other clean energy and advanced technologies. Monazite also contains uranium and thorium, which processors need special licenses and capabilities to recover and manage.

Monazite is produced as a byproduct of titanium and zircon mines in the U.S. and around the world. Energy Fuels' White Mesa Mill is recovering the uranium from monazite and selling it for the production of clean, carbon-free nuclear energy. The mill is evaluating recovering the contained thorium for emerging 'targeted alpha therapy' cancer treatments, as well as producing a REE product called mixed rare earth carbonate which is ready for the next step in rare earth refining: separation. At the current time, no other U.S. company is producing a rare earth product ready for separation. Energy Fuels is also in the early stages of installing rare earth separation capabilities at the White Mesa Mill, with the potential to unlock significant revenue generating opportunities.

The White Mesa Mill is also the only facility in North America licensed and capable of recycling alternate feed materials (AFMs). AFMs are essentially low-level waste materials that contain recoverable quantities of natural (or unenriched) uranium. The Company typically generates between $5 and $15 million per year from AFM recycling. Finally, Energy Fuels is seeking to become involved in the cleanup of legacy Cold War era uranium mines in the Four Corners region of the U.S., including on the Navajo Nation. The U.S. Environmental Protection Agency (EPA) has access to over $1.5 billion for the cleanup of just a fraction of the sites on the Navajo Nation. The White Mesa Mill is fully licensed to receive much of this material, we are one of the government's lowest cost options, and we have the ability to recycle the material and produce usable uranium from it.

San Juan County Clean Energy Foundation

On September 16, 2021, Energy Fuels announced the establishment of the San Juan County Clean Energy Foundation, a fund specifically designed to contribute to the communities surrounding Energy Fuels' White Mesa Mill in Southeastern, Utah. In tandem with the announcement, Energy Fuels deposited $1 million into the foundation and detailed plans to provide ongoing annual funding equal to 1% of White Mesa Mill's future revenues, providing funding to support the local economy and local priorities. The foundation will focus on supporting education, the environment, health/wellness, Tribal initiatives and economic advancement in the City of Blanding, San Juan County, the White Mesa Ute Community, the Navajo Nation and other area communities.

"The communities that surround our facility deserve to share in the benefits of the Mill's clean energy future," Mark Chalmers, CEO of Energy Fuels, stated in the news release. "The very heart of our business – uranium and rare-earth production and recycling – helps us play a big part in addressing global climate change, reducing air pollution, and making the world a cleaner and healthier place. We see San Juan County as becoming a critical minerals hub for the U.S., and we believe the Foundation is truly the best way to make an impact and difference in the lives of those who work alongside us as we pursue these goals."
Investment Considerations
Largest producer of uranium in the United States (2017-2019); assets accounted for over one-third of nation's supply since 2006
Leading U.S. vanadium producer in 2019 with flexibility to respond to evolving markets
Began producing mixed rare earth carbonate in 2021, making Energy Fuels the most advanced rare earth producer in the U.S.
Diverse business opportunities, including alternate feed materials recycling and land cleanup, which all have significant potential to drive significant cash flow
Positioned to benefit from Trump Administration's pursuit of $1.5B over 10 years to purchase uranium from U.S. miners, along with other U.S. government support of domestic production
Strong cash, working capital and inventory positions
Proven track-record of sustained U.S. market leadership
- Recent Coverage -
InvestorNewsBreaks - Energy Fuels Inc. (NYSE American: UUUU) (TSX: EFR) Announces Strategic Move to Sell Alta Mesa Project, Focus on Uranium and Rare Earth Production
November 14, 2022 8:30 AM
Energy Fuels (NYSE American: UUUU) (TSX: EFR), a leading U.S. producer of uranium and rare earth elements ("REE"), today announced its entry into a definitive agreement to sell three wholly owned subsidiaries that together hold its Alta Mesa ISR Project to enCore Energy for total consideration of $120 million (the "transaction"). The transaction, which is expected to close by the end of 2022 or early 2023, is significant for the company, as the cash received is expected to fully finance much of Energy Fuels' uranium, REE, vanadium and medical isotope business plans for the next two to three years without diluting shareholders. "This is a unique transaction for Energy Fuels. Not only does it allow us to monetize the Alta Mesa Project for $120 million, it allows our company to focus and accelerate our higher priority uranium and rare earth projects without dilution to our shareholders," said Mark S. Chalmers, president and CEO of Energy Fuels. "This non-dilutive transaction will add cash to Energy Fuels' significant working capital position, which was $122 million at September 30, 2022. Energy Fuels will also retain some exposure to short-term market upside and optionality at Alta Mesa and enCore through the convertible note."
Interact with SmallCapSociety Members
Network Partner Spotlights

- And -

About SmallCapSociety
Our focus is on micro- and small-cap companies spanning a range of industries and stages of development. The stocks that catch our attention feature the products, services, management teams and business plans required to thrive in today's markets. For the knowledgeable investor, the small-cap space represents huge potential, but keeping abreast of the latest happenings in specific industry sectors and niches is essential to optimizing long-term returns. We're not interested in selling snake oil or touting the so-called "hottest" stocks. We're all about giving you the tools and information needed to uncover ground-floor plays that are ripe for big-time moves.
Newsletter archives and disclaimers available at: www.smallcapsociety.com